31 Aug

A Guide to Doing Public Relations on a Shoestring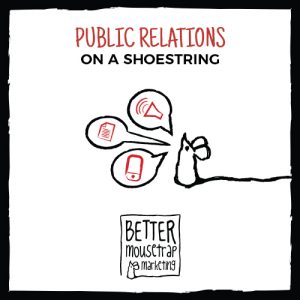 If you are trying to figure out whether you can do public relations (PR) on a shoestring budget, you've come to the right place! When you hear the phrase "public relations", it usually conjures up an image of big businesses, press conferences…and a hefty price tag. We have some great news for you – PR is a vital part of any successful business AND it's possible to perform effective PR and still be cost-effective!
Getting Started.
With the rise of the internet and social media, the veneer of public relations looks different than it used to. Interestingly, PR shares many commonalities with modern marketing tools that engage customers; it's all about making connections and building relationships. This is where digital media comes into play, which we will talk about in a second, and it makes DIY public relations manageable AND possible. Simply put, performing PR is an excellent way to extend your reach and increase business without paying traditional advertising costs.
Public relations is an important extension of your existing marketing efforts and allows you to capitalize on communicating these efforts from sources like a marketing plan or a solid social media marketing strategy. Once you know who you're trying to reach, set some goals. Decide what message you'll use, who will assist you in reaching your audience (bloggers, journalists?), and what tools you'll use (email, social media, press?). Once you know the answers to these questions, craft careful communications to each with engaging content and story lines and you will be on your way, and on a shoestring!
Connecting Can Be Free.
You've planned out your PR communications strategies, now it's time to save money! Budget-conscious public relations requires time and some ingenuity. Since connections are a big part of PR, some quality hours should be spent dedicated to outreach and communications via social media. Social media and email are both great tools to use for connecting with people, not to mention that most of these tools are FREE, so they should be used as much as possible to keep your PR costs down. If you want to use a specific blogger to promote your business for example, take the time to interact with their social media by sharing or commenting on their posts, following their page, or contacting them directly. If you have a story line for media, like the introduction of a new and exciting product, craft some paragraphs about your newsworthy item and email it to your media list. Putting some extra hours into the development of a media outreach email list will bolster your PR efforts. Don't procrastinate, add it to your task list and do it!
More Bang for Your Buck.
While there are plenty of free opportunities for keeping your public relations costs down, you will need to dedicate some budget eventually. Use your money wisely and be choosy as quality is important. Weigh your options and determine if the content you provide yourself is going to be more effective than hiring the services of an industry blogger or top journalist. Another great way to get more bang for your buck is through Corporate Social Responsibility (CSR). Getting involved with your community or local charity boosts your PR efforts and enhances the perception of your brand. Sponsoring an event or volunteering your staff hours to assist not only separates you from competitors, it's also good for your employees. It's not free, but it's an amazing way to dedicate some of your available budget.
We hope these ideas will help you manage your public relations, on a shoestring! It takes some creativity, time, and patience. As with all marketing, the best trick is revisiting and revising your plans and goals to see where effective PR fits into your mix. If you need some help deciding where to put your PR money, we would love to help you! We have public relations experts who can help you determine the best forms of outreach, and how to stay on budget. Don't wait, give us a shout today!