27 Jul

Word of Mouth Marketing in the Facebook Era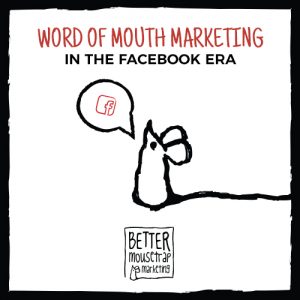 Monitoring Word of Mouth Marketing is more important than ever in this Facebook era. Social media platforms are a daily part of most Canadians' lives and your customers are using these platforms to connect with friends and family, as well as sharing their favourite brands and experiences. Most of these people use reviews, recommendations, and ratings before choosing restaurants, services, or even theatres. Word of mouth isn't new, and word of mouth marketing is a big part of how people buy. A major consideration in the Facebook era is how quickly word spreads. One post can be shared hundreds or even thousands of times in the space of an hour or two. Using that to your advantage in the right way can be huge for your company, so paying attention to word of mouth marketing is essential.
Word of Mouth Marketing: What is it?
Word of mouth marketing is basically conversation encouraged by your company and another way of saying that people are talking about your business. Using that idea to connect with your customers is word of mouth marketing. While that might not seem like much of a big deal, it takes some work to make it effective. The best part is that word of mouth is free, and with the internet today, it can be fast too. It's important to remember though, that in this Era, it covers both good and bad experiences, so you need to use it in the right way.
Word of Mouth Marketing: Start With The Basics.
Before you start using word of mouth marketing, you need to know that the easiest way to get your customers talking positively is with amazing customer service. There's only so much that word of mouth marketing can do if your customers aren't satisfied. With the speed of Facebook and other social media platforms, negative feedback can be shared quickly and is often damaging. Making sure that you put customer service first will go a long way to keeping the chatter positive. You can also encourage a good experience by engaging with your customers on social media. Being part of the conversation and responding to messages and concerns all help customers feel connected to you.
Word of Mouth Marketing: It's In The Details.
You can also make a big difference to how effective your word of mouth marketing is by keeping an eye on details. Actively encourage your customers to leave reviews, ratings, or testimonials and publish them on social media or your website. Make sure that your ordering process is efficient and easy. Encourage users to share content like photos or store-specific hashtags. Make your business stand out, whether it's a quirky saying or an exclusive product. Partnering with a cause or supporting community projects can help customers feel good about your brand too. These details will help make sure that your Word of Mouth Marketing is helping your customers connect with you. Customers that feel satisfied and connected with you are more likely to share your brand with their friends and family, especially when that experience is exceptional.
People will inevitably talk about your business, but with these tricks in mind, you can encourage them to talk positively about your company. And since the Facebook era is well underway, you can see results quicker than ever before. If you need a hand with the details, or some help getting started with word of mouth marketing, we've got a team of specialists ready to go! We've got you covered, whether It's website design (or redesign), brand creation, or just some ideas. What are you waiting for? Contact us today.