19 Mar

What is social media marketing?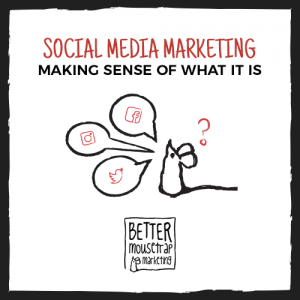 Social media marketing can seem like a maze – or like a machine that sucks in your advertising budget and spits out a confusing sequence of likes, clicks, retweets, and friendships that are hard to measure.
But social media is critical to your business in 2018. Furthermore, it builds your brand, engages your audience, and puts you in front of your industry's buyers and decision-makers.
What is the definition of social media marketing?
Social media marketing is the use of social networks to market a company's products and services to prospective users. At its heart, social media is … well … social. It's a place to create and nurture genuine, lasting relationships between people online.
Don't think of social media platforms as a giant marketplace where you can have to compete loudly for customers' attention. Instead, think of those platforms as a friendly neighbourhood watering holes where you meet customers, learn about their needs, and share helpful information.
Who does social media marketing reach?

Just about everyone. Currently, more than 2.8 billion people around the world use social media – more than 3,738 times the population of Vancouver Island even if you include all of Courtenay, Nanaimo, Parksville.
Facebook is the largest platform in the English-speaking world, followed by YouTube, Instagram, and Twitter. Nearly 60% of content shares happen on Facebook followed by 18% on Twitter.
Millennials are the most likely generation to follow a brand on Facebook, but that doesn't mean older generations aren't talking about those same brands in social media chatter. Well think again, they are. The world meets on Facebook. You need to be there, too.
What results can I expect from a social media marketing campaign?
Results depend on investment. How much money are you willing to put into paid ads? Do you want to bring on outsourced talent through a digital marketing agency? How consistent are your campaigns? Why are you doing social media marketing?
Social media isn't free. Oh, the account may be, but the results aren't. Therefore, a social media strategist such as Better Mousetrap Marketing can help you increase your followers, ramp up your click-through rate, strengthen your engagements, and build valuable relationships. Social media is a great place to share free content, offer fun activities, and be friendly with prospective customers. Most noteworthy, it's also the top spot for collecting useful data about them.
Tell me more about how to market my business on Facebook, Instagram and Twitter.
Social media marketing for business isn't the same as having a personal account. Because of that, it's more carefully curated, posts are appropriately spaced, and it's more consistent. Studies show that social media content needs to be current, friendly, trendy, creative, useful, and exciting. Consequently, great content is the cornerstone of any social media marketing strategy.
What are our top five tips for how to market with Facebook, Instagram, and Twitter in 2018?
Create engaging live video.
Cross promote your posts.
Promote an interactive hashtag.
Consider teaming up with an influencer.
Monitor your accounts.
Do you have any tips to share about marketing planning? Let us know in the comments how you're engaging with your customers and prospects on social media.