03 Aug

The Difference Between SEO and SEM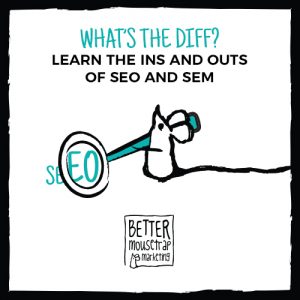 At first glance, SEO and SEM may look like the same thing. In fact, until recently they fell under the same umbrella, but they are two distinct strategies. With so many businesses competing for the attention of internet users, it's vital to make sure that your content comes up when someone's looking for it. That's where SEO and SEM come in. What is SEO? What is SEM? Should you use both, or do you only need one? Read on, we've got the answers!
SEO vs. SEM: What's the difference?
SEO, which stands for Search Engine Optimization, is basically what you're doing when you organize your web content in a way that makes it more likely to show up in a search. Search engines have ways of ranking content. The closer your content comes to what the search engine is looking for, the greater the chance that your content will be shown to a user. Some methods that increase SEO score are including keywords and phrases, creating high quality content, and building links. It's also important to note that SEO helps with organic ranking.
SEM, on the other hand, stands for Search Engine Marketing. SEM is what you're doing when you pay to show your ads to users searching for your keywords. SEM uses similar concepts to SEO, as it also uses keywords to rank your site. However, instead of assisting with ranking organically, you're paying for the search engine to use your website in response to a user search. This is done by bidding on keywords that link to your site. With the right keywords, and the right bid, the search engine will bring your site up first. If you think this sounds like PPC (Pay-per-click) marketing though, think again! That's because while SEM platforms do use PPC models, not all PPC platforms use SEM.  There are other online advertising options that charge per click, but don't use keyword strategies at all.
SEO vs. SEM: Do I need both?
So, why should you use both SEO and SEM? Since SEO helps your organic ranking there's no reason not to use it! Making your website search engine friendly with SEO will give you a good baseline for your website's optimization and will help you bring more users to your site. SEO clicks through organic listings don't cost anything either, so it makes sense to make your website as search friendly as possible. SEM, on the other hand, will bring users to your site that are actively looking for what you're offering, so it's worth investing in an SEM campaign as well. While you do have to pay for these clicks, you're also getting customers who want to be involved in what your business is providing. These customers can lead to higher revenue for your business and they are worth trying to attract.
The most important part of both SEO and SEM is making sure that you're using the right keywords and optimizations for each. Researching keywords related to your business, local keywords that are popular in your area, and paying for the right keywords are all steps you should take the time for. If you need a hand coming up with keywords or optimizing your site, give us a shout! If you need to start your optimizations from scratch, we do that too! If you want more tips and information, please browse our website for more tips on SEO in Nanaimo and other areas. We've got a whole crew of expert team members ready to help you on your way, so contact us today to book a consultation!