19 Feb

Monthly Marketing Made Easy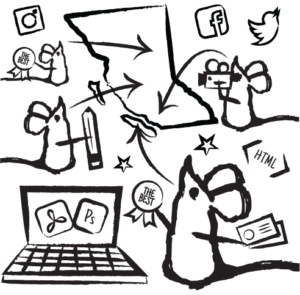 As a full service marketing company, we work with a wide variety of clients to match needs and services. We meet those just beginning a new venture, and those who have already developed very successful businesses. Some have a great deal of expertise in their area of business, but don't have a background in marketing to know how to get the word out about what they do. We also work with clients who already know what (and in some cases even how) they want to market their services; they just don't have the time to implement their ideas.
When we begin our work with a client we look at the big picture:  the branding, the messaging, and the various channels that will be used to reach potential customers. We look at their marketing plan, or help them create one so that they have a marketing calendar to pro actively prepare for seasonal changes and important events. Next we look at the concept and messaging, and consider the various formats and mediums being used.
Our goal is to incorporate the branding, and a creative message that will make people want to know more. We put together a few ideas for the client to choose from. The marketing strategy may include tools like rebranding, creating a new website, a customized mobile app, or getting better search engine results. It might be print ads, or an online ad campaign. It may be finding ways to communicate through blogs or newsletters. We also use tools to monitor the results to give you feedback in the form of analytic reports to compare what's working and what isn't.
Some of our clients need a little help, and some need a lot. Our marketing team works with each client based on their own needs to fill in the gaps.  We also offer monthly retainer plans that work with budgets of all sizes, so that the kinds of services we offer can fluctuate from month to month. Our team brings a variety of skills sets to the table so whether you're looking for a creative ad concept, graphic designer, copywriter, or a web developer, you have the expertise of an entire marketing department working for you.
So, where do you feel you may need some help, direction, and/or new services implemented? Now that we have a better understanding of one another, where are the gaps and how can we help fill them? Give us a call, and we can set up a time to meet with you at your place of business (or have a virtual meeting) at no cost.