05 Nov

How To Craft A Powerful Brand Image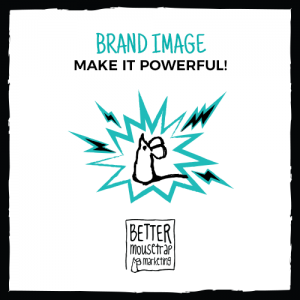 Brand image is one of the most important parts of a business, it's basically your identity as a company. Brand image is a big part of what attracts customers in the first place and familiar brands are a big part of what keeps customers coming back. So, how do you show your customers what your brand is? And the bigger question is…. how do you make your brand memorable?
Before we answer that, lets find out a little bit more about what brand is. Think, for a second, about one of your favourite companies and consider their brand. You will notice that the image they project is similar on YouTube, Facebook, television commercials and in print. Brands are most effective and successful when they're consistent across all media platforms. When you're looking at your own company's brand, consider consistency in your look or image, your messaging and ensure it's similar across all of the marketing tactics you employ. Your brand is projected in things like your physical work environment, business cards, packaging, website, advertising, social media, and even customer service! With more and more online review tools available through Google, Facebook and Trip Advisor, remember that negative reviews can have a devastating effect on your brand!
Brand Image Begins With A Solid Structure
Ok, we now have a better idea of what a brand is (your companies' image) and what makes a brand image successful (consistency!). Now it's time to make your brand image the best it can be. To start, effective research is one of the first things you can do to improve your brand image. Research for your brand is similar to the research you may have done for a public relations strategy or marketing plan, but there are a couple of differences.
While your target audience is important to establish for marketing in general, this audience is even more important when creating your brand. Dive into the details and be as specific as you can. The more you understand who your audience is, the clearer your message and brand will be to them. While you're at it, take a look at your competitors and find out how effective their brand is being communicated.
Once you've narrowed down your audience, you need to define your company's reason for being, in other words, what's your company's mission? Clarifying what your company's primary goals are will help craft a believable brand image. Your company's goals and mission should permeate all aspects of your brand. The clearer your mission is, the more consistent your brand can be, so consider this in building the framework. Now you need to add some layers so roll up your sleeves and figure out what makes your business special compared to your competition. Knowing this will help set your company apart and produce a stronger, more effective brand.
Brand Image Needs A Visual
Visuals are what we most often associate with brand so lets get to the fun stuff, it's logo time! But wait! Before we begin, it should be restated (and this does provide marketing professionals with a small chuckling point) that a logo is not your brand. As you know, or now know, a brand is far more than a nice logo. That being said, your logo will be the first thing your future customers see so make sure it's professional and on point. The old adage, "You don't get a second chance to make a first impression" rings true with logos. They project that first glance impression so do it right! Changing logos can be tricky later on, so make sure that the logo you choose has mileage and stands the test of time.
Taglines are also part of visuals and should be approached with care too. Your tagline is a statement about your company and its mission. Don't rush it! While you're working on a tagline, you should also be thinking about your brand's voice. Will your print materials be informative or conversational? Friendly or professional? How you write something can have as much of an impact as what you write. Use this to create a simple message for your brand that says who you are and what you're about in a couple of short sentences. In the big picture, all of these things add up and give your brand personality
Developing Brand Image Requires Patience
As consistency is the most important aspect of any successful brand image, now's the perfect time to remember that some things can't be rushed. You will never win if you rush brand development. If you do rush and win, consider yourself very lucky! If your brand doesn't resonate, changing your brand frequently can destroy credibility and puts an end to the consistency that brand images strive for. Customers like familiarity and will often choose brands they know. A little bit of patience mixed with effort in the beginning will help your brand image down the road. That might mean taking the time to hire a designer to build a logo or getting a second opinion on your target audience outline. A successful brand image can take you far so put in that extra effort!
For more on brand image & logo design in Nanaimo, Vancouver Island, please browse our website. If you find yourself in need of brand development or if your brand needs a boost, we can help! Our team has the development knowledge and design experience to help build powerful brand images that will help boost your business. What are you waiting for? Book a consultation today.