26 Nov

Brand Image and Brand Identity – What's The Difference?
What's The Difference Between Brand Image and Brand Identity?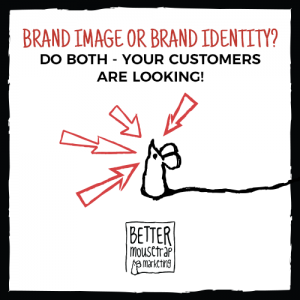 Brand image, brand identity, aren't those the same thing? As it happens, they're not! The word "brand" gets tossed around an awful lot, so you've probably got a few questions. What is brand image? What is brand identity? Do you need to think about both, and if so, why? Let's break those questions down!
Let's define "brand".
Branding gets thrown around as a thing companies do, and they seem to be pretty focused on branding in general. With so many "brand" terms, it's pretty tricky to figure out what is being talked about. To start making this understandable, we're going to figure out what a brand is first. Most people can think about the word brand and think of a company or two that they like to purchase products or services from. But what does that mean from a marketing point of view? In a general sense, a brand is how you sell a specific product through your particular company. How that product is sold and perceived by customers is unique to how you choose to sell it. Seems pretty complex, doesn't it? Another way to think about a brand is by treating it like making a promise. To make this clearer, and more importantly, actionable, we can use both brand image and brand identity. They can also help to improve brand loyalty.
What's the purpose of a "brand image"?
Brand image is part of a brand. Brand image is what current or potential customers think about your product. It's their impression of what you're selling. For example, they could view your product as high quality and built to last, or they could view your service as reliable and efficient. Both of those impressions are related to the promise you make to your customers, regarding what you're offering them. This idea is actionable! You can use the idea of brand image to influence your brand from the customer's perspective. What do you want them to think? This concept can be used together with brand positioning to help influence your clients' opinions about your company. These companies are great examples of brand positioning.
Why is "brand identity" different?
Brand identity, on the other hand, is the message a client receives from a product or service, and it's specifically related to product recognition. While that might seem exactly the same as brand image, it's not! Brand identity is all about connecting your brand to the physical side of your company: name, logo, and so on. The goal here is to make sure customers know what you're selling when they see or hear something related to your business. This idea is also actionable! Consistency is key here. You don't want your customers wondering whether they're in the right place if you have a different logo and colour scheme on your website vs. your in-store signage. Both brand image and brand identity can help reinforce the promise you make to your customers. They both represent actionable ways to strengthen and support what you want your customers to think about your company. We realize that branding can seem like a nebulous idea that's hard to wrap your brain around. It's also a big job. If you want help creating a brand, we've got a team of experts who can make that happen.
For more on branding & logo design in Nanaimo, Vancouver Island, please browse our website. If you'd just like a second opinion or an extra pair of hands for a brand that's already in progress, we can do that too! Your promise to your customers matters to us, so don't wait! Give us a yell, send us a text, or drop us a line today!